Announcing: A new "objective report" format
Today, we are announcing a new expanded objectives report format. It is now possible to select one or more objectives and create a report including all of the related searches and results. As with other reports, this format can be saved as a PDF file or exported to Excel®. 
To create an objective report, click on "Search Your Logs" and leave the "Find" setting on "Objectives." 

Set any desired terms to narrow the search, or leave the default settings to return a list of all objectives in the log. Click "Search." In the list that is returned, click on the check boxes to the left of each objective to be included in the report, or click "Select All" in the upper left corner of the screen. 

When you click "Report," a new menu will open asking whether to include "Objectives only," "Objectives and related searches," or "Objectives, related searches and results."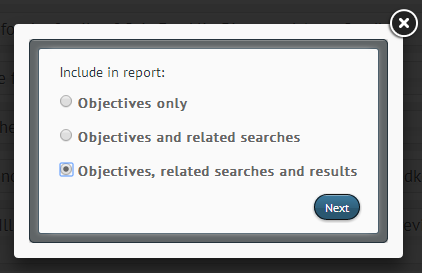 Make a selection, then click "Next." Choose PDF or Excel format, then click "Create." The report will be generated instantly.
This new format can be created for a single objective, several selected objectives, or every objective in the log. The PDF and Excel files can be saved on your computer hard drive, and all hyperlinks are active. Track your progress on each goal that has been set, using these reports to assist in the analysis process. Try it today!